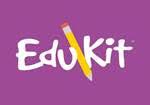 Harriet Rowley Elementary offers the EduKit program as a convenient option for busy families to order school supplies for the upcoming school year. EduKits include the supplies approved by our school.
Your order will be placed through EduKit's Last Chance program and will be delivered to your home on or before August 25. Home delivery fee is included.
THE DEADLINE FOR ORDERING IS AUGUST 11, 2021
Click HERE to order your student's edukit.